Home Page of Martin Lutz
---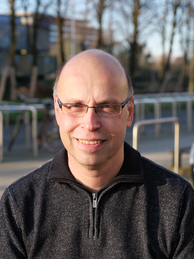 ---
Contact
Martin Lutz
Structural Biochemistry
Bijvoet Centre for Biomolecular Research
Faculty of Science
Utrecht University
Universiteitsweg 99
3584 CG Utrecht
The Netherlands
Tel. [+31] 06-22735980
m.lutz@uu.nl

---
Publications
Publications of Martin Lutz.
---
Reciprocs
The Powerpoint slides of the Eval15 tutorial at the Reciprocs meeting (Ambleteuse, 8.-12. Sep 2014) can be found here: ambleteuse.zip.
---
EUHEDRAL
Information about the program EUHEDRAL (written by M. Lutz and A.M.M. Schreurs) for the refinement of the crystal shape for an analytical absorption correction can be found here.
Other software from our group can be found here.
---
Crystal growing
Please visit my Tips for Crystal Growing.

---
Twinning
I have just started to collect some information about Twinning of Crystals.

---
Links
National Single Crystal X-ray Facility.
Crystal and Structural Chemistry.

---
Last change 29-Jul-2021. e-mail to Martin Lutz